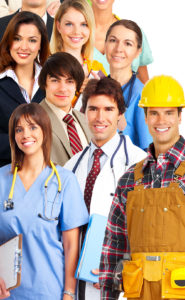 Employees are assets and their comfort and safety is paramount within the workplace.
Whether it's an entire uniform, polo shirts for engineers, high vis vests for the warehouse staff, Oxford shirts for the sales team or a team-building weekend, you will find providing branded clothing promotes the values of your company while demonstrating quality, service and commitment to your staff.
The products and choices of corporate workwear are inexhaustible and can appear unfathomable from budget priced pieces to high end performance wear. We can help guide you through the pros and cons of different brands and give recommendations when you are building your corporate look and work wear options. It's for this reason along with our strict quality assurance that our customers come back time and time again.
Why embellish your products with your company logo?
To build your brand.

Reinforces recognition within the local community & in front of clients.

Work Wear within the work place looks professional, it creates an image, team spirit and can help motivation.

Your logo reinforces and resonates your company values.

It's fully tax deductible!!!!
Some clients wish to order clothing and products without any embellishment; we can do this for you too.